Floor Liners & Cargo Liners
The precision engineering of the Truck Gear by LINE-X® Floor Liner ensures an exact fit to the contour of your vehicle's floor. The deeply molded chevron-shape tread pattern channels dirt, mud, and snow away from the driver to keep shoes and pant legs clean. The high-perimeter wall offers interior protection and containment. Raised nibs on the bottom keep the liner in place. The self-sealing floor attachment prevents dirt and moisture from getting through. Front, rear, and cargo liners are available for most trucks, Jeeps, and SUVs.
3/8″ deep chevron-shaped tread pattern provides a rugged look and protects shoes and pant legs from dirt, mud, snow, and water
High-perimeter wall offers interior protection and ultimate containment, ensuring your carpet remains pristine
Injection molded, rubberized plastic eliminates deformation in extreme temperatures
Lifetime end-to-end warranty
---
WEATHERTECH
CARGO LINERS
WeatherTech Cargo Liners provide complete trunk and cargo area protection. These Cargo Liners are digitally designed to fit your vehicle and feature a raised lip to keep spills, dirt and grease off your vehicle's interior, protecting your investment from normal wear and tear.
Made from a proprietary custom blended TPE that is not only wear resistant, but also remains flexible under temperature extremes. WeatherTech Cargo Liners feature a textured finish that helps to keep cargo from shifting. Perfect for hauling just about anything from gardening supplies to construction materials, even the family pet.
Available for car trunks, minivans and SUVs in Black, Tan or Grey.
Cargo Liners Offer:
Interior protection from all types of wear and tear
Custom molded specifically for your vehicle
Easy installation
High outside lip that helps contain spills
Quick and easy cleanup
A skid-resistant surface
Protects and preserves the cargo area and trunk carpet
Toughness and durability
WeatherTech Bumper Protector
BUMPER PROTECTOR
The WeatherTech Bumper Protector is a great addition to your Cargo Liner to help protect the surface of your vehicle's bumper from dings and scratches when loading or unloading personal items or pets. The Bumper Protector is made from highly durable vinyl fabric that easily snaps onto your Cargo Liner by stainless, rust resistant snaps. The WeatherTech Bumper Protector comes in two sizes: 30″ x 30″ and 30″ x 40″.
To protect your bumper, simply snap on the Bumper Protector to your Cargo Liner, unravel the Bumper Protector so that it covers your vehicle's bumper, and when not in use, easily roll up and secure with sewn in Hook and Loop straps to hold the Bumper Protector in place. Item is easily removable for cleaning.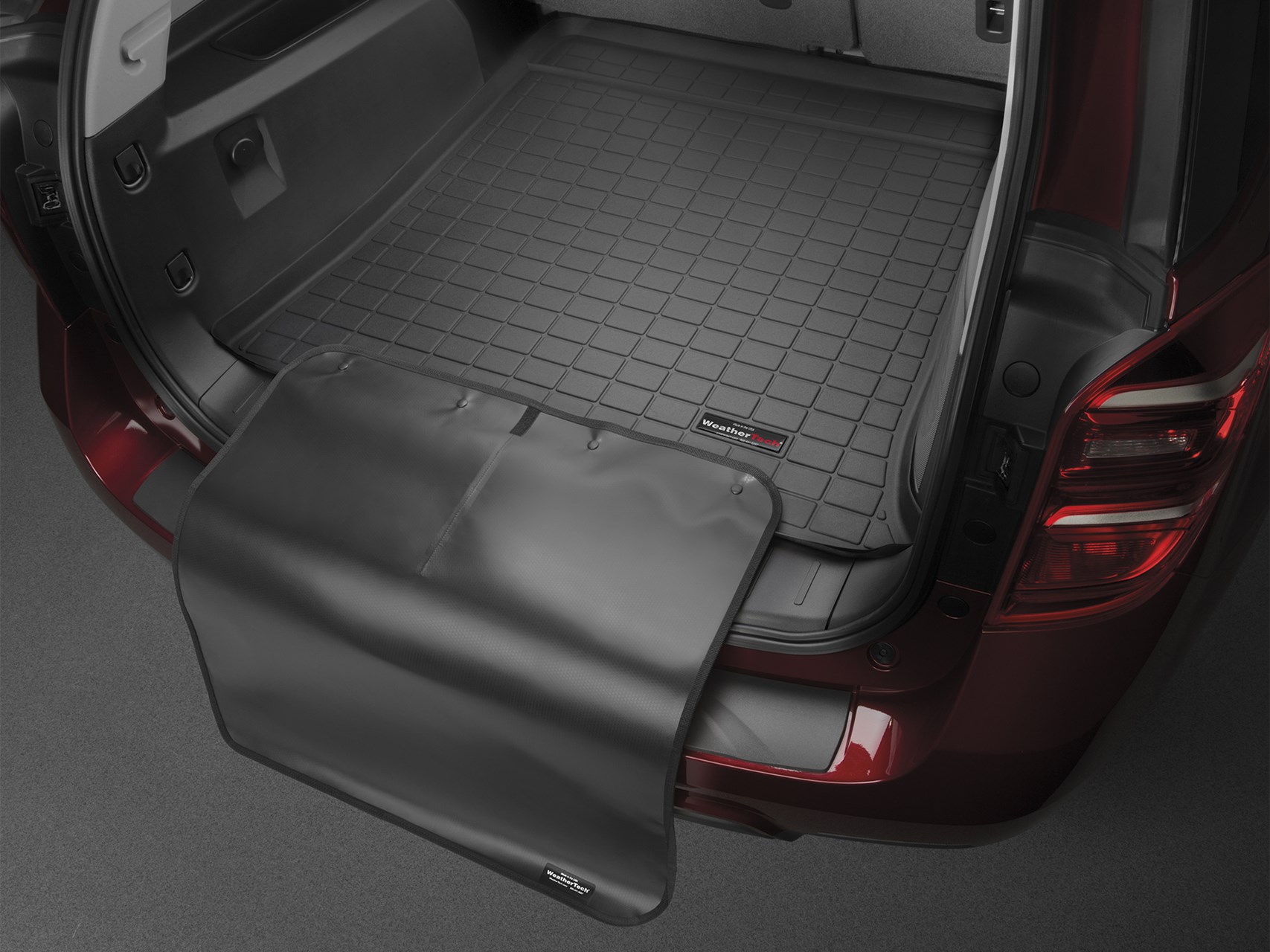 FLOOR LINERS
The WeatherTech FloorLiner accurately and completely lines the interior carpet giving "absolute interior protection"! The WeatherTech FloorLiner lines the interior carpet up the front, back and even up the sides of the vehicle's footwell. Digital laser measurements of interior surfaces offer a consistently perfect fit!
A patent pending High-Density Tri-Extruded (HDTE) material allows for a rigid core for strength while offering surface friction to the carpet, as well as tactile feel to the surface! Advanced surfacing creates channels that carry fluids and debris to a lower reservoir with further channeling to help minimize fluid movement while driving! Once fluids become trapped in the reservoir, away from shoes and clothing, they are easily removed from the WeatherTech FloorLiner over the door sill. No muss-no fuss!